Perfect Ingredients to Fun and Education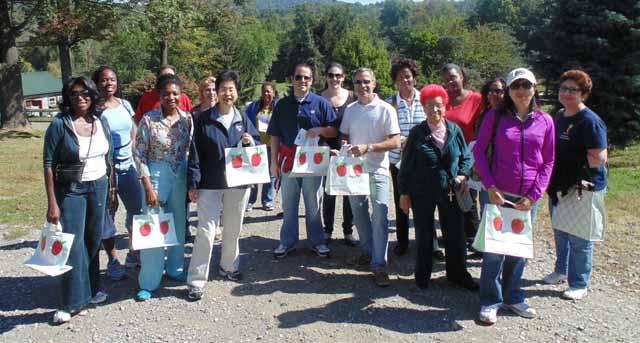 The cool sunny weather and comfortable smooth bus drive served as perfect ingredients to the fun and pleasant educational mobile seminar sponsored by the HFAA (Healthcare Food Administrators' Association of Greater New York) September 20, 2013. A sequel to the "Farm to HFAA" initiatives, the HFAA bus trip kicked off with exchanges of useful information that helped ripen the city slickers' "apple" expertise, and hone further agricultural literacy, as they headed to the Warwick Valley NY Orchards, Vineyards and Creamery, where the real apps began.
Like tourists guides, the HFAA leaders familiarized the seminar participants on the farmlands they passed through, making the bus ride more intellectually challenging. Honey farms, Potato farms, Corn fields, Herb fields and Pumpkin plantations were just a few of the viewed local abundance of agricultural produce. And the real farm immersion commenced with the "pick your own apple" orchard activity, where the apple knowledge were tested through hands on feel of fruit texture and taste, and matching these apple varieties, and qualities to recipes/menus that could likely fit the healthcare foodservice specs of "fresh and healthy" foods.
Further farm product involvement proceeded as the HFAA group checked out Orchard and Vineyard store items that could come handy for healthcare food service customer service initiatives. Avalanche of thoughts ensued, like creative Thanksgiving/Special occasion baskets not only of fresh fruits, but of farm items as honey, apple butter, cider, juice sparkles, spiced home baked fruit cookies, or patient welcome gift ideas of fruit scents, ornaments/trinkets from recycled wine bottles. And how about a recreational activity making caramelized apples on lollipop sticks for residents of Community Living Centers and clients of Adult Day Healthcare Centers ?.
The sumptuous lunch served in the Warwick Orchard Café, likewise presented menu ideas of farm product utilization in recipes of pizzas, salads, and gourmet sandwiches. Among the ingredients showcased were apples, pumpkins, grapes, goat cheese, and honey. Ever tasted Goat Cheese Pizza? Or Gourmet sandwich of Grilled Honey Chicken with fresh grapes, mustard and dill ? Brilliant satisfying ideas that could have a place in healthcare foodservice settings.
Off limits to alcohol beverages, but the comprehensive insight on the varieties of fruit sparkles and spirits presented at the wine tasting activity, gave light to an adventure and celebration of the fruits and farmlands of New York. Introduced were varieties of draft hard cider from blends of different apples and varieties of fruits. Currant, pear and apple ciders served from kegs, as well as dessert aromatic fruit distillates of cherry, grapes, peach could be a welcomed venture in adding perks and sparkle to patients/resident/client special foodservice events..
Last stop was at the breath taking Warwick Valley location of Bellevale Dairy Farm Creamery, where the HFAA team got to savor delightful creamery concoctions that catered to various health conditions/food preferences, from lactose intolerance to vegetarians, from the chocolate fanatics to the fruit enthusiasts. Unforgettable were the Pumpkin sherbets, orange sherbets and novelty fruited yogurts. It was a wonder envisioning the dairy food system, from cow grazing to production of novelty dessert ideas. But at the end of the trip, one can only say, Education could be up up and away, away from the seminar rooms, up on the hills, over the valleys and farms. And Learning could be fun, the HFAA way.
Contributed by Cecille P. Agustin MS, RD, CDN, HFAA GNY Education Committee Chairperson.